Testimonials
Getting the System that Best Fit Our Needs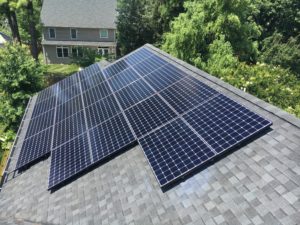 "A couple years ago, I got inspired to see what it would take to have solar panels installed on the roof of our house in Falls Church, VA. I started looking into it, but just couldn't find good information.
Fast forward to this spring, when we noticed a post about the Solarize NOVA campaign on our neighborhood listserv. Through Solarize NOVA, we were connected to a local installer (Prospect Solar) who led us through the entire process, which wasn't nearly as complicated as I thought it would be.
After getting an idea of what we were looking for, the sales rep presented us with a few different system configurations, explained the pros and cons of each one, and answered all of our questions. He didn't try to push the most expensive system, instead focusing on getting us the system that best fit our needs.
Within a couple months, the system was installed and fully operational and now offsets around 90% of our annual electricity demand. We couldn't be happier with how everything turned out."
-Mark Lee and Neha Mehta
Going Solar was Quick and Easy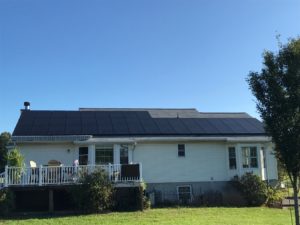 What made you decide to get solar power?  "Always thought it would be a good way to save money and reduce carbon footprint. Home is in ideal location for installation"
How long did it take to install? "Approximately three weeks."
How has solar power affected your monthly bills? "No longer have electric bill however, must pay "hook-up fee" to utility. (Another reason we want batteries)"
What was your experience working with LEAP? "Amazingly quick and easy."
Do you have any recommendations for people considering solar power? "Plan to get battery back-up – not necessarily to go "off-the-grid" rather, to maintain power in emergency."
-Dave in Virginia
Going Solar in Spotsylvania County, Virginia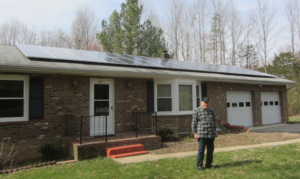 "I saw an article in the Free-Lance Star about a meeting promoting Solarize Fredericksburg in which a LEAP representative summarized the benefits of solar systems. LEAP was very responsive when I requested an energy audit and confirmed that our new home in Spotsylvania might qualify for a solar system. The cost of our installation by Altenergy was about $10,000 less than the cost of our previous solar system. We are very thankful for the benefits received due to the Solarize Fredericskburg project."
-Mark and Mary Abernathy
Solar Success in Nelson County, Virginia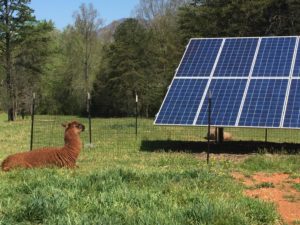 "LEAP helped make the link with the solar contractors and educated the community by holding the workshops. They passed on a lot of great information. We also got an energy audit by LEAP. We completed the recommended items on the list. I think the most notable was the blown in insulation in the attic. This winter, the house was noticeably warmer…Altenergy was professional and very interested in helping us understand our solar setup. They want the world to go solar too so we shared a common goal…Price with tax credit was great…There have been electric bills that are just the fee from the company – no usage cost."
-A Nelson County resident
Maximizing Energy-Efficiency with Solar in Fredericksburg, Virginia